WIN $500 in March Madness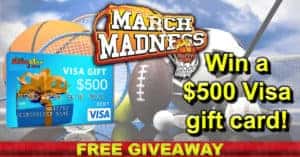 FOLLOW THIS LINK: http://bit.ly/2FzTU43
March Madness $500 Giveaway
Mar 21 – Apr 8
March Madness FACEBOOK Giveaway!
Show us your Funny, Fail, or Epic video/photo and you could win a $500 Gift card!
(sports related earns bonus points)
⛹️‍♀️***Enter more than once!***
🏂Posts with more likes and comments will grab our attention more, so get your friends involved.
🤾🏽‍♀️We will pick our favorite.
Qualifications:
🏈You must Like our FaceBook page to play!
🏀LIKE & SHARE the contest post that's on Facebook!
📹Post a Photo or Video on our Facebook Page
(No Purchase necessary to win.
Must be 18 years or older to enter.
Winner will be chosen Monday, April 8th)
FOLLOW THIS LINK: http://bit.ly/2FzTU43