Fifth Wheel vs. Travel Trailer
Are you heading on an adventure to a local campground, or to one of the best RV parks in Washington State? Then you might be weighing the merits of the fifth wheel vs. travel trailer. While both towing systems can provide you with a cozy and portable place to lay your head, they have distinctive advantages for different types of travelers. So before you make any big decisions, think about what you need out of your equipment. Then take a look at our guide below to find out the best campers for your needs!
---
---
Advantages of the Fifth Wheel
Are you looking for the most spacious option possible? Then you might want to start with the fifth wheel. A fifth wheel trailer is towed by the hitch in the pickup truck bed, which is generally pretty easy for any driver to attach. The design also makes for a stable and controlled drive with minimal swaying, compared to some of the other options on the market.
However, the biggest advantage of the fifth wheel is in capacity. The fifth wheel is usually larger and taller than a travel trailer, which translates to more space for you and your passengers. This could be especially valuable information for taller travelers. Keep in mind that both fifth wheel and travel trailers are offered in a wide range of dimensions. That means you can easily find a slightly smaller and lighter model if you'd prefer.
In general, a fifth-wheel setup is more stable, and that means it's better for carrying especially heavy loads. If you're looking for a larger RV or considering a tiny home, this option is probably a better choice for your needs.
---
Advantages of the Travel Trailer
What if you'd rather trade a little space for greater versatility? You might prefer the travel trailer option. The travel trailer is towed behind the vehicle on the bumper with a conventional ball hitch system. These systems are typically more affordable than the fifth wheel, but also a little smaller.
That smaller footprint can be a major asset though. The lower roof means better clearance and less worrying about height restrictions. The lighter weight means better fuel economy. And the smaller size means backing up is a breeze. A travel trailer is a great option for those who camp occasionally with a few people in Coeur D'Alene, ID, while larger groups and seasoned travelers in Post Falls, ID may prefer the extra space of the fifth wheel. It just depends on your preferences.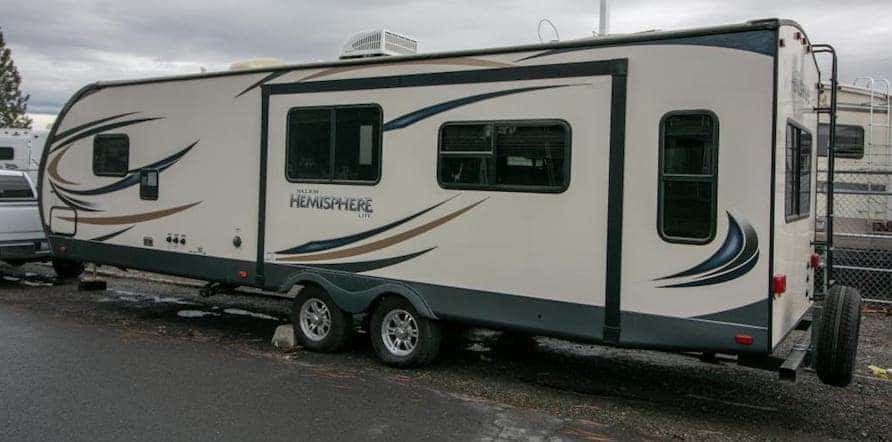 ---
Compare Travel Trailers to Fifth Wheels at Arrotta's Automax & RV!
Are you ready to find out if fifth wheel or travel trailering living is for you? Visit Arrotta's Automax & RV in Spokane, WA to explore our used RVs in person! If you're curious about RV financing, we'll be sure to teach you everything you need to know! We'll introduce you to all of the different types of RVs, and you can even apply for financing before your visit. Our curated inventory is full of everything from RVs to wagons, so be sure to check out everything we have to offer! Need to know what kind of truck you want to pull your RV? Compare gas vs. diesel trucks or take a look at our used Jeep SUVs!
---
Recent Posts from Arrotta's Automax & RV
Your car's battery is an essential component, and every so often, it will need to be checked for damages, or replaced. If you want to be able to start your vehicle and enjoy all your electrically-powered components, you'll need to make sure this crucial piece of technology is in good condition. Thankfully, removing a car…

According to Edmunds, about 45% of the vehicles sold in the U.S. come with all-wheel drive or four-wheel drive. Both drivetrains are popular choices among Spokane, WA and Coeur D'Alene, ID drivers, so what separates the two? Compare AWD vs. 4WD, as well as AWD vs. FWD and AWD vs. RWD, to more thoroughly explore your options before…

There's no question — camping around Spokane, WA is an extraordinary experience, promising adventures and sights you won't find elsewhere. Planning to pack up your Winnebago or Fleetwood and hit the road? Arrotta's Automax & RV has you covered! Here are a few of our picks for the best RV parks in Washington State! Contact Us Dosewallips State Park…