Whether you're a longtime rider or just starting out, you know how much road grime accumulates while riding around Coeur D'Alene, ID on your motorcycle. You probably also understand how much damage that grime can do to your motorcycle's parts, paint, and upholstery. Fortunately, cleaning it up and keeping it looking its best requires only basic supplies you can find around the Spokane, WA area and, of course, a bit of your time. Read on to learn how to wash a motorcycle!
Gather Supplies
Before you begin, it's essential to make sure you have all the equipment you need to get the job done. All these items can be found at your local Post Falls, ID hardware store or superstore.
Essential Supplies:
WD-40
Bucket
Sponge
Clean, dry, lint-free towels
Degreaser
Toothbrush/detail brushes
Soap automotive cleaner
Bug and tar remover
Optional Supplies:
Auto or motorcycle wax
Chrome cleaner
Leather/vinyl cleaner
Glass cleaner
Many riders find it helpful to have a 5-gallon bucket handy to store everything in a convenient location.
Pre-Clean
If you've just hopped off your bike, allow it to cool down before you begin the cleaning process. Wetting down a hot engine can cause damage to your engine, possibly leading to expensive repairs. Once cooled, pre-cleaning can begin:
Clean the Chain. WD-40 works as a solvent to remove dirt and grease and can be used to lubricate the chain after the bike is cleaned.
Get in the Crevices. Use a soft brush to clean non-chrome bits and to scrub dirt and debris from difficult-to-reach places. Keep in mind that you should steer clear of brake lines and bearings.
Complete Wash
Remove accumulated dirt by using a soft sponge and cool water. If you've driven down salted Coeur D'Alene, ID winter roads, make sure to be more thorough with rinsing. If your bike has plastic components, use a mild soap and be sure to rinse thoroughly when finished.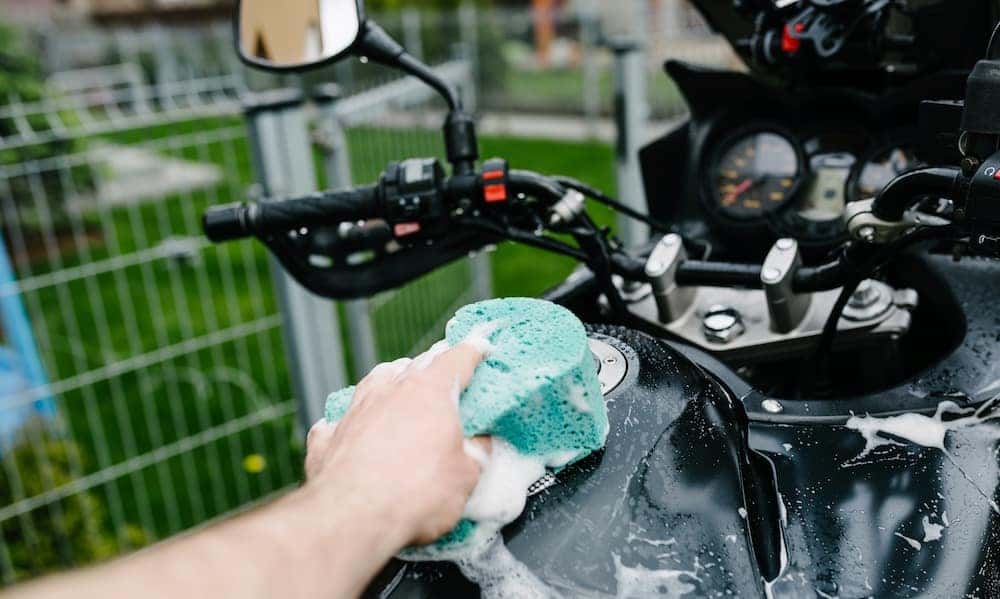 Dry Your Bike
Dry your bike thoroughly with a soft, lint-free cloth to prevent any water spotting. Once your bike is clean and dry, you can apply vinyl or leather protectant to the seat. This is also the time you would lubricate the chain and bearings.
Find Your New Ride at Arrotta's Automax & RV!
Ready to add a little adventure to your daily Post Falls, ID drive with a motorcycle or scooter? Contact Arrotta's Automax & RV, and let us help you with all your motorcycle needs! Let us know if you've found the perfect ride for you in our motorcycle inventory.