2019 Van Giveaway!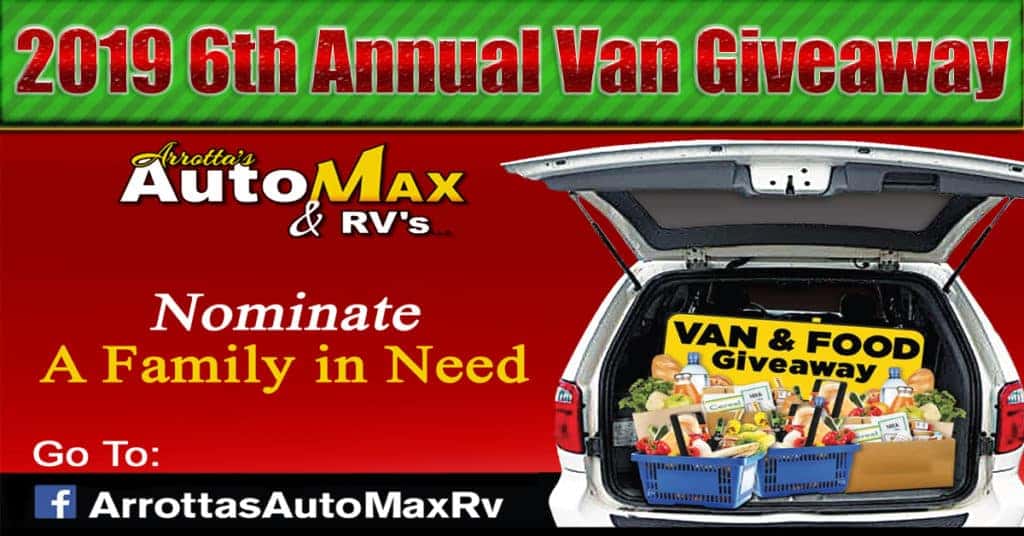 It is time to Nominate a family in need…
---
We listened to all the feedback last year and this year we have changed a few things. 
This year, there are two ways to be entered to win the grand prize.
Get the most likes for your nomination.
Submit the most compelling story that will be sure to catch our judge's attention.
A total of 10 families will be nominated.
The top 5 most liked nominations and 5 nominations that a panel of our judges will choose.
Our Judges will pick one of the 10 families to win the grand prize.
---
Please read all the rules below before entering.
HERE'S HOW IT WORKS:
Nominate a family in need to win a quality used van. "Nominate a family in need" by posting a video or photo of your nominated family, with a description of why this family deserves to win a van filled with groceries and toys. We want to hear their story and see their faces. Then, get your friends involved.
First, Like our Facebook page!
1) Click here: Arrotta's Automax & RV's FACEBOOK to nominate a family in need.
2) Then, write a post in the "discussions" to nominate a family in need.
3) Tag the family your friends and ask them to "LIKE" your nomination and our Facebook Page.
WE WILL NOT BE ACCEPTING EMAIL ENTREES.
It is suggested to create a Facebook account for nomination submissions or to have a friend or family member on Facebook make the nomination for you.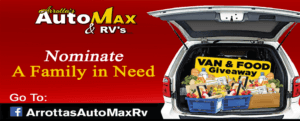 Official Rules
General: No purchase necessary to enter or claim a prize. Void where prohibited. Must be 18 to enter.

How to qualify for the contest:
Disqualifications:
Anyone caught buying "Likes", "Shares", or "Comments" for their post will have their post removed from Arrotta's AutoMax's Facebook page and will be immediately disqualified from this and ALL future contests.

Anyone caught cheating the system in any way will have their post removed from Arrotta's AutoMax's Facebook page and will be immediately disqualified from this and ALL future contests.

Arrotta's Automax & RV's reserves the right to terminate any nominee for any reason at any time at Arrotta's Automax & RV's discretion.

Nominations must be done by a separate individual. You cannot nominate yourself nor someone in the same household.

It is ultimately up to Arrotta's Automax & RV's to determine the fairness of Likes (votes) at Arrotta's Automax & RV's discretion as to who is picked to win the van of food and gifts.
Prize Details: A van, toys & food will be awarded to a family as determined by a panel of 4 judges that will be selected by Arrotta's Automax & RV's. Prize winners are responsible for all taxes. The prize winners will be issued an IRS form 1099. The winner is responsible for any application fees, service charges, surcharges, and all insurance, federal, state and local taxes if any, and any other unspecified expenses associated with the acceptance or use of any prize. Prizes are nontransferable. No cash redemption allowed. Arrotta's Automax & RV's reserve the right, in their sole and complete discretion, to substitute a prize of equal or greater value if any advertise price becomes unavailable. Arrotta's Automax & RV's reserves the right to change any and all rules, or other parts of this contest at any time.
Awarding of Prizes & Voting: The van, food, and toys will be awarded to the family that has the story with the most votes or the family that has been selected by the judges. On the nominated family's posted story, 1 Facebook like is equal to 1 vote. Limit 1 like per Facebook account for their nominee. Any duplicate nominations will NOT count. The top 5 nominations with the most votes by December 20th, 2019, and the top 5 chosen nominations will be judged by our panel to reveal the final contest winner. Additional prizes may be given out to the runner-up winners at the dealership's discretion. Arrotta's Automax and RV's does not choose the winner.  Arrotta's Automax & RV's, in attempts to keep the contest fair and honest, do look into the number of likes and shares on a regular basis. Arrotta's Automax & RV's does their best to ensure all votes counted are accurate. Stories with duplicate Shares are not counted shares and thus the votes gathered from that share also do not count. Arrotta's Automax & RV's does not guarantee 100% accuracy with vote counts. Arrotta's Automax & RV's is not responsible for errors in the tabulation of votes and consequently making Arrotta's Automax & RV's with the final decisions. * Arrotta's Automax & RV's reserves the right to change, add, remove, or modify any rules at any time during this event.
Odds: Odds of winning the contest depend upon the number of entries submitted by the nominees.
Eligibility: The Arrotta's Automax & RV's promotion is open to families legally residing in the United States who are 18 years of age or older at the time of entry. The winner will be contacted on Facebook and must respond within 2 days of being contacted. They must also be available and attend the Reveal Party on Monday December 23rd, 2019, and pick up the vehicle at that time or make prior arrangements at the discretion of Arrotta's Automax & RV's. Arrotta's Automax and RV's, employees, retirees, agents of the company, wholesalers, retailers, and immediate family living in the same household with such employees, are not eligible to win. Other Conditions: all federal, state, and local laws and regulations apply. Arrotta's Automax and RV's reserves the right, in its sole discretion, to cancel, terminate, modify or suspend this contest or any portion thereof, or to disqualify any individual implicit in any of the following actions, if for any reason: (a) infection by computer virus, bugs, tampering, unauthorized intervention, fraud, technical failures, or any other causes which, in Arrotta's Automax sole opinion, corrupt or affect the administration, security, fairness, integrity or proper conduct of the contest, (b) The contest or any website associated therewith or any portion thereof become scripted or does not allow the proper processing of entries per these official rules or (c) The contest is otherwise not capable of running as planned. Participants agreed to release and hold harmless Arrotta's Automax and RV's, participating sponsors in each of its parent, subsidiaries, affiliates, divisions, advertising and promotional agencies, wholesalers and retailers, and each of the foregoing entries employees, officers, directors and shareholders and agents ("collectively The Released Parties"), from and against any and all claims, actions and or liability for any injuries or death, loss or damage of any kind arising from or in connection with participation in and or entry into the contest or acceptance or use of any prizes including without limitation, all prizes. The Released Parties are not responsible or liable for any incorrect or inaccurate entry information, and assume no responsibility for (i) any air, omission, interruption, defect or delay in operation or transmission at any website, (ii) failure of any entry to be received by Sponsor due to technical problems, human air or traffic congestion on the Internet or at any website, (iii) Communication line, hardware and/or software failures, (iv) damage to any computer software or hardware resulting from participation in the promotion, (v) theft or destruction of, tampering with, unauthorized access to, or alteration of entries and/or entry information, or (vi) entries that are late, lost, stolen, damaged, illegible and/or unintelligible or any combination thereof. By entering this promotion, entrance agrees to comply and be bound by these official rules. Must be present to win. Any entry who attempts to tamper with this contest in any way shall be disqualified.
Facebook Disclaimer: this promotion is in no way sponsored, endorsed, or administered by, or associated with, Facebook. You understand that you are providing information to the contest sponsor and its affiliates and not to Facebook.